So, you've heard the buzz about HOTWORX, and now you're itching to give it a whirl. But hold on a second! Before you dive into this unique blend of workouts and infrared heat therapy, you'll want to know what's going to hit your wallet.
The cost of a HOTWORX membership varies based on the plan you choose. A single session typically costs around $20. Monthly memberships start at $99 for the Basic plan, which offers unlimited access to all workouts. There's also a one-time initiation fee of $99. Additional costs for amenities like mat and towel rentals may apply.
In this comprehensive guide, we'll dissect every dollar and cent you'll need to invest in this fitness journey. Ready? Let's get started.
What is HOTWORX?
HOTWORX is not your run-of-the-mill gym experience. It's a specialized fitness program that combines traditional workouts with the benefits of infrared heat therapy. Imagine doing yoga, Pilates, or isometric exercises in an infrared sauna. Sounds intriguing, right?
This unique setup not only helps in calorie burning but also aids in detoxification and muscle recovery. It's like hitting three birds with one stone.
Why Choose HOTWORX Over A Local Gym?
Versatile Workout Options
The gym offers both Isometric workouts and High-Intensity Interval Training (HIIT). Whether you're into yoga, Pilates, or more intense workouts like cycling and rowing, HOTWORX has something for everyone.
24/7 Access
One of the standout features is its 24/7 availability. You can work out at any time of the day or night, offering flexibility for those with irregular schedules.
Private Amenities
HOTWORX provides a private bathroom complete with a shower and complimentary clean towels, adding a touch of luxury to your workout experience.
Strength-Training Area
In addition to the saunas, there's a full strength-training area equipped with a variety of dumbbells, kettlebells, and battle ropes.
Types of Workouts Offered
When it comes to the fitness menu, HOTWORX serves up a smorgasbord of options. Whether you're a yoga enthusiast, a Pilates pro, or someone who loves to challenge their body with isometric exercises, there's a class tailored just for you.
The offerings include HOT ISO, a high-intensity isometric workout; HOT Yoga, which combines traditional yoga poses with the benefits of infrared heat; and HOT Pilates, a core-strengthening regimen that will make your muscles sing (or perhaps, scream).
The cherry on top? The cost is the same across the board, so you can freely hop from one class to another without fretting about the price tag.
Pricing Overview
| Membership Type | Monthly Fee | Initiation Fee | Perks Included |
| --- | --- | --- | --- |
| Basic | $99 | $99 | Unlimited Workouts |
| VIP | $129 | $99 | Priority Booking, Guest Passes, Exclusive Merchandise |
| Family Add-On | $30 extra per family member | N/A | N/A |
Alright, let's talk numbers. The cost of a single HOTWORX session will set you back around $20. But if you're planning to make this a regular part of your fitness routine, you might want to consider their monthly membership options.
These start at $99 and can go up depending on the perks you choose. It's a reasonable price to pay for a unique workout experience that combines exercise with infrared sauna workouts.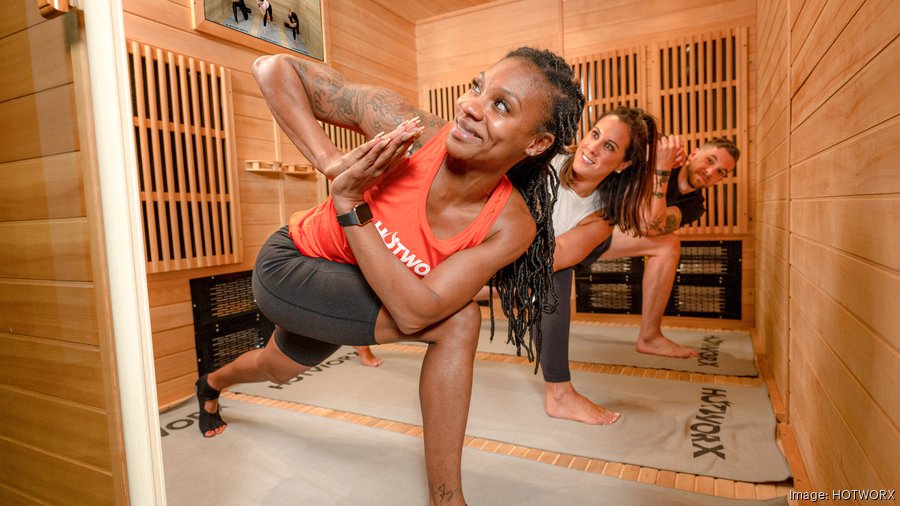 Detailed Membership Plans
Navigating the world of HOTWORX Membership can feel like a maze, but don't worry, we've got the map. Let's start with the Basic plan, which is anything but basic. For $99 a month, you get unlimited access to all the workouts—be it HOT ISO, HOT Yoga, or HOT Pilates. It's an all-you-can-sweat buffet of fitness!
But wait, there's more. If you're looking to elevate your experience, the VIP membership is your golden ticket. For a slightly higher monthly fee, you get a host of perks like priority booking, guest passes, and even some exclusive merchandise. Both plans come with a one-time initiation fee of $99, so keep that in mind when budgeting.
Whether you're a weekend warrior or a daily devotee, there's a membership plan designed to align with your cardiovascular health and fitness aspirations.
| Additional Costs | Price Range |
| --- | --- |
| Mat Rental | $5 – $10 |
| Towel Service | $5 – $10 |
| Locker Rental | $5 – $10 |
Special Packages and Deals
If commitment isn't your thing, HOTWORX has got you covered. They offer special packages like a bundle of 5 sessions for $85. For those willing to commit for a short term, there's an unlimited membership available for $59 per month, provided you sign up for at least three months. It's a steal if you ask me!
While the membership plans cover most of your expenses, there are some additional costs to consider. For instance, you might want to invest in a high-quality mat or perhaps a set of towels designed to withstand the heat. Some locations also charge for locker rentals. These extras can add up, so it's best to factor them into your budget.
Family Plans
Got a partner or a teen who's equally enthusiastic about fitness? HOTWORX offers a family plan that allows you to add a family member for an extra $30 per month. It's a cost-effective way to get your loved ones involved in your fitness journey.
Location-Based Pricing
Keep in mind that HOTWORX operates multiple locations, and the pricing can vary. It's always a good idea to check with your local HOTWORX locations for the most accurate and up-to-date pricing information. Some locations even offer special discounts for students or military personnel.
Conclusion
So there you have it—a complete breakdown of how much HOTWORX costs. From single session costs to monthly membership plans, we've covered all the bases. Now, all that's left is for you to decide which option offers the best value for your fitness goals and budget.
External Links
HOTWORX Official Website – For official pricing and membership details.
All Things Madison Article – For insights into why HOTWORX is unique.
Club Pilates Prices – For a comparison with another specialized fitness program.
Hey there, I'm Jennifer M. Lowes, but my friends call me Jenn. Born and raised in sunny California. By day, I'm a freelance makeup artist transforming everyday people into their best selves. By night, I'm here on this blog, sharing my favorite nail designs, makeup tips, hair styling techniques, and much more.